The Golden Summer EP was produced in Wales by Tim Hamill and recorded and co-written with Steve Balsamo, co-founder of The Storys and a former Jesus Christ Superstar,  and Christian Phillips of The Ultimate Eagles.  The EP was mixed on the same desk used for Coldplay's Parachutes, among other great albums, when the giant desk was in it's original home at Wessex Studios – London.
As heard on BBC Radio 2
 Available from iTunes, Amazon.
A Shade of Orange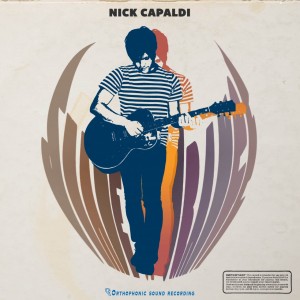 Nick has recently completed his debut album 'A Shade of Orange' with Rolling Stones producer Chris Kimsey which is available on iTunes now, preceeded by the single 'Stanley Arms Brigade' on limited edition orange vinyl.
A Shade of Orange is a real mixed bag of retro, and shows Nicks diversity as a songwriter.  There's a bit of blues, rock n roll, a couple of ballads, motown and psychedelic suprises!
Available from iTunes, Amazon.